At Bânu Magnifique, we work with artists to share their stories and turn their art into high quality chiffon scarves made from recycled water bottles.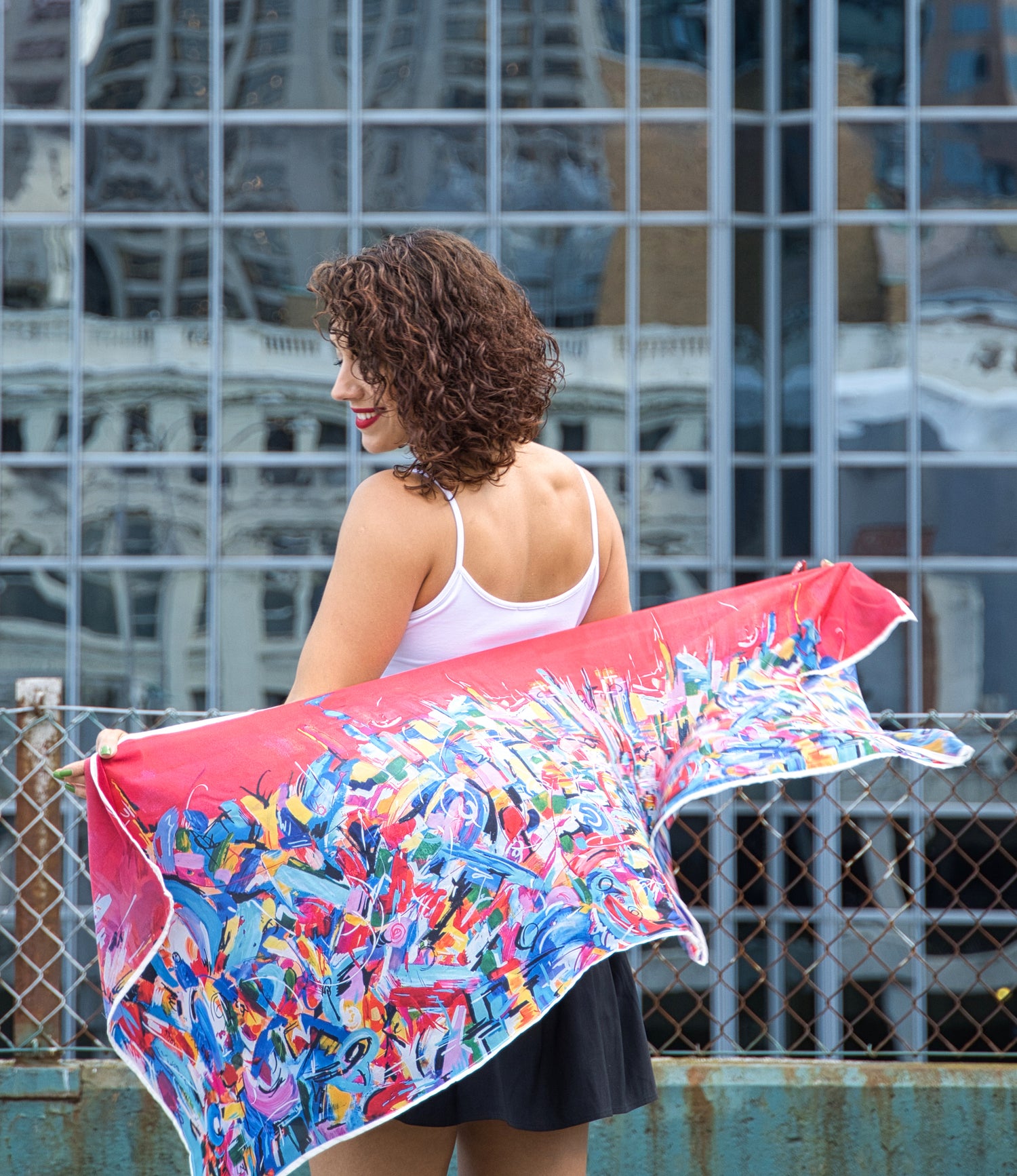 Our Purpose
We are fashion with a purpose: To bring beautiful artistic stories to everyday clothing, do it with as little environmental impact as possible, and support those who need care and compassion with every scarf we sell.
We're passionate about making life a little more colourful for us all and inspire a culture that values art and the thought process behind it. Our scarves are made with love. We obsess over every detail, from creating the art, to making the scarves and packaging them.

We hope you feel joy and positivity with our colourful collections.
Story of Colours, Art & Pandemic
Bânu Magnifique was born in early 2020 out of an immense love for colours, art, and people. Colours have always been a part of my life — my mother is an incredible artist and introduced me to painting at a very young age. I believe that colours hold an invigorating power that helps us stay positive and instill confidence. Life is short; therefore we owe it to ourselves to do everything in our power to create, encourage, and spread positivity and love. That's why I started Bânu. Today, I'm proud to be able to say that it has grown into something even bigger — and brighter — than I could have ever imagined.
Having started this journey amidst a global pandemic, virtually everyone needed a little pick-me-up — something to make them feel better. I thought to myself "there's never been a better time than now." I reached out to a number of talented artists with different stories to tell, and just like that, our first collection was born. A culmination of all my passions, the artist's stories and experiences; all translated onto wearable garments that make the wonderful magic of colours more accessible.
The next thing I asked myself was, how can I produce these garments while showing love to Mother Nature, who already suffers from overproduction and waste. After much searching, I found a local company who was able to provide the chiffon fabric for our scarves using recycled plastic bottles. The result? A smooth and  luxurious fabric that is long lasting and has minimal environmental impact.
That still wasn't enough though, amidst all the crises that humanity is experiencing right now, mental health is among the most prominent. I wanted to do something beyond the personal impact that I hope every purchase has on a customer. I decided that I would donate a percentage of all sales to charities that are directly involved in the fight to better our mental health.
For centuries, fashion was a symbol of status and glamour — but today, it means so much more. Fashion is comfort, happiness, expression, necessity, art, progress, reflection — the list goes on. Fashion is capable of allowing us to be the best version of ourselves, and we intend to communicate this through our products. 
With love,
Salma Kashani